Introducing Trustfit 
Our Trustfit program was created to help you approach your journey back into health and fitness in a safe and effective way.
Years of experience, study, testing and refinement of different health and fitness systems has enabled us to come up with an efficient approach toward fitness, health and well-being. Trustfit will guide you through exercises in a safe and effective way to prevent injury and attain optimal, long-term results.
About –
Henrike has been training extensively as an equestrian vaulter from the age of 4 until 18 years old, attaining a gold medal at the European championships. She holds a Bachelor of Science degree in Sport and Performance and is a certified Backfree instructor and yoga teacher. Her long-term focus on fitness, health and well-being now overflows into what she has to offer within the Trustfit program.
Henrike will assess your physical health and tailor a safe and effective fitness program to suit you.
Education –
European champion in equestrian vaulting (Team Neuss | Germany)
B. Sc. Sport and Performance (German Sport University, Cologne | Germany)
Backfree instructor (Backfree, Darren Evans | Australia)
Yoga teacher (Iyengar / Madhya yoga, Yoga Central | Australia)
Classes –
Private classes available upon request.
INTRO CLASSES STARTING SOON –Bookings essential.
Beginners*                 Thursday 01/04/2021              9am – 10.30am
Intermediate*            Saturday 03/04/2021              9am – 10.30am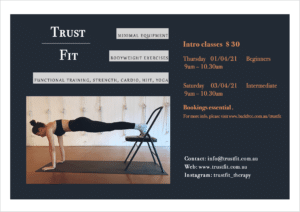 * beginners – starting with the basics, no previous experience required, low impact exercises and simple structure
  intermediate – basic level of fitness required, a little more diverse and complex exercises and structure
Contact –
Henrike Evans-Schaaf
Email                 info@trustfit.com
Instagram         trustfit_therapy (https://www.instagram.com/trustfit_therapy/ )